. . . flower design classes for everything green and gorgeous!
The Potting Shed is the perfect environment for meeting and having fun with family, friends and work colleagues.
Flower Workshops and Demonstrations
Offering a little escapism from today's hectic life and a great day out. Our courses are practical, easy to follow and, most importantly, fun. Embark on a journey with Wendy as she shares her passion for all things floral. Can be held at The Potting Shed or at a location of your choice. View our upcoming workshops.
Hands on Workshops
For anyone who loves flowers and wants to learn a skill in a day that will allow them to make for example beautiful, inexpensive bouquets for the rest of their life. Maybe you and a group of friends want to do something together? We are open to special requests and will willingly create a course for a small group of people to suit their needs. Wendy will share her knowledge and design ideas and guide you to create something you will be delighted with. Go on and surprise yourself, no matter what skill level you have. An in depth knowledge of floristry is not required.
There is a selection of floristry sundries available to purchase to get you started, all sold in small quantities to suit the home or church flower arranger.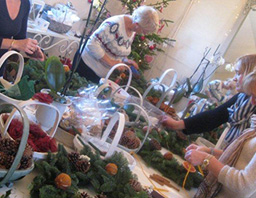 All flowers, tools and materials are included. Scrumptious cakes, teas and coffees are served throughout the day either in the gardens on warmer days or in the 'music room' on colder days. A light lunch can also be catered for. There will also be an opportunity to ask questions about any aspect of floral design and working with flowers.
Examples of our themed experiences include:
The Domestic Goddess Experience, The Winter Wonderland Experience, The Mother's Day Experience, Deck the Halls Experience, The Vintage Experience.
We have small class sizes so that personal attention can be given to all.
Demonstrations/Talks
Sit back and enjoy watching Wendy explain how to get the best from your flowers and by inspiring you to 'have a go' through demonstrating displays in a way that can be re-created easily.
We look forward to inspiring you.